You. Are. Beautiful. 

And don't you forget it! When you come into the studio at Wanderlust, you certainly won't. We are here to help you see what everyone else already does. That you're a Gorgeous & Beautiful Badass! Right here, right now. Not 10 lbs down the line, not pushed away for a special occasion. Now.  
*Warning: A Boudoir Session with the Wanderlust Studio may cause spontaneous bouts of Sexy Confidence!
Start planning out your Dream Boudoir Session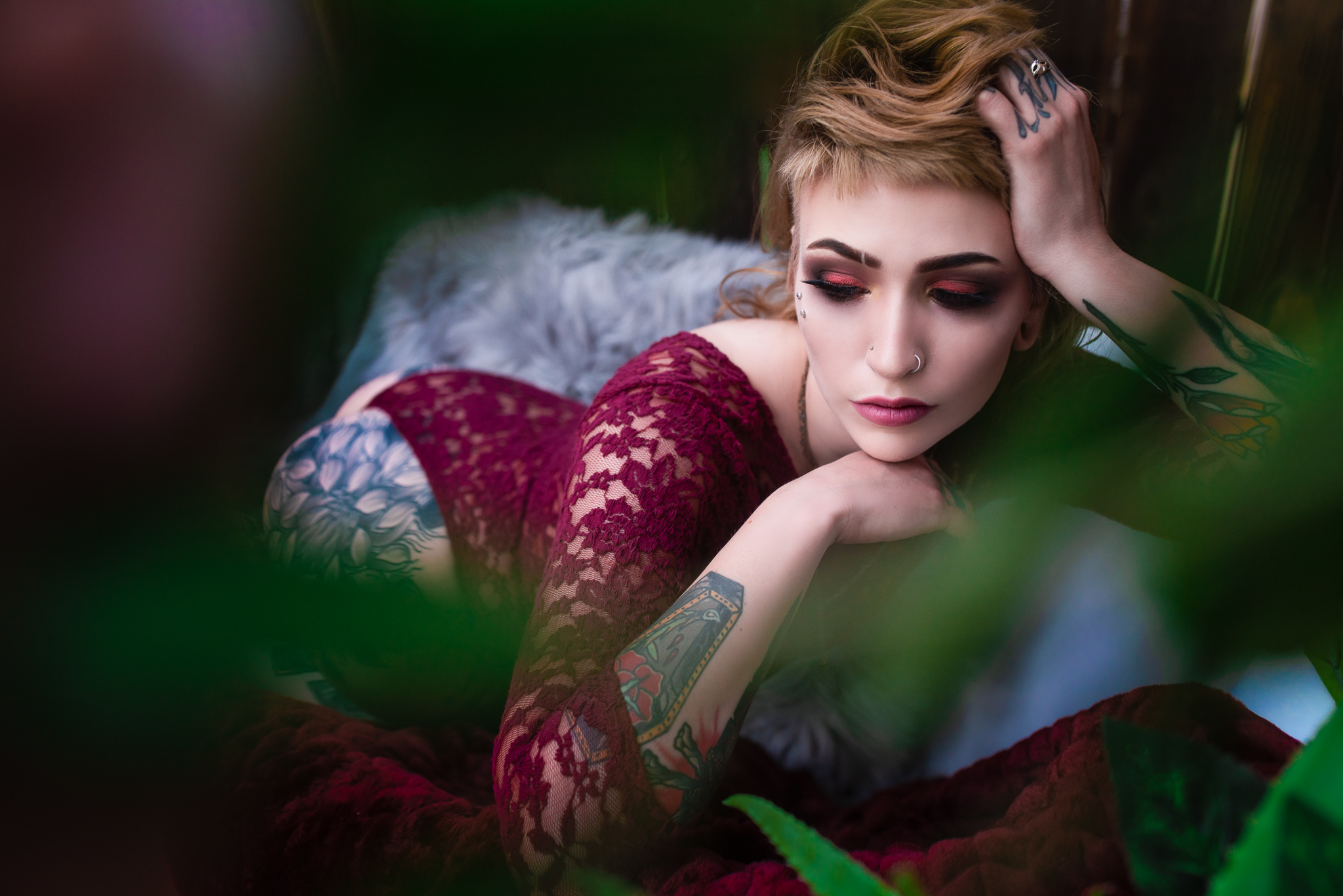 Meet the photographer...
Tasha
Hi there! I'm Tasha. I like fun hair colors, motorcycles rides, and settling down for a good book. But, I especially LOVE making women feel beautiful about themselves.

A lot of adventures got me here to owning my own photography studio in beautiful Chattanooga, TN. I first picked up a camera back in College, sometime around 2010. And it was only to take pictures of my Costume designs up on stage. I was a Theatre major at UTK, you see, with pins in my mouth, chopsticks in my hair, and a perpetual 'head in the clouds'.

Fast forward a few years and you'll find me working for Disney. Now that's a change! By this time, I've discovered my love of photography and I absolutely love being able to capture memories for families to cherish. I thought I'd work there forever, capturing beautiful brides in front of Cinderella's Castle, making their dreams come true..... (yes I did shoot weddings for Disney)

Then I realized I hated living in Florida! I am a mountains and 4 seasons type of girl and I missed my Appalachian mountains, cooking, and friendly people!

So, after a few years working in the Most Magical Place on Earth, I decided to bring a bit of the Magic back to my home town of Chattanooga, TN, nestled in the base of the Appalachians. Its fog filled mountains and cooler weather were calling me home.

And now I'm here! At Wanderlust Boudoir Studio. After realizing all I wanted to do was make women feel beautiful and finally See themselves as beautiful, I decided to dedicate my studio to the beauty and empowerment of Boudoir.
And we All have different things to offer
-Queen Latifah
Never Forget....
You are a QUEEN
Check out these Gorgeous and Brave women who have come before you!
And find even more stories and portrait in my Private VIP GROUP
Jessica
'It was the best time I've ever experienced! From the hair to the makeup to the actual shoot, it was so much fun!! It was definitely an experience I will never forget! It got me out of my comfort zone! I'll definitely be doing another shoot in the future because all the laughter and fun times we had was amazing!'
Sarah
'I was so afraid to do this at first. But, then with all the info Tasha gave me and our Consult, the Session was a dream! She showed me exactly what to do to look my sexiest and I just couldn't believe that who I was looking at was actually me.

We laughed so hard we cried, we danced around the studio, played dress-up with beautiful lacy things…

It was like a day of adult dress up with chocolate and wine. Plus, you get to be pampered by Hair & Makeup too!'
Jennifer
'My boudoir session with Tasha was an exhilarating experience. As someone who is constantly aware of my body I was both excited and nervous to have pictures taken. The session itself was fun and very relaxing. I found myself at ease with Tasha, and I found myself giggling and having fun throughout the shoot.

At my reveal, I honestly couldn't believe that Sexy, Fierce woman was me.

Tasha did an amazing job, I've had a pep in my step ever since. She was able to show that you don't have to be a size 2 to be beautiful, or sexy!'
Stephanie
'When I first went to see Tasha, I didn't know how things were going to work out. I was nervous about getting undressed in front of someone new. Besides my fiancee, I've never really undressed in front of people at all. But, Tasha was extremely welcoming and took time to make me feel comfortable with myself.

Once we started I felt Amazing! It was scary, it was hard work, and it was Exhilarating.

Tasha did my hair and makeup which made me feel pampered and beautiful. We aren't models, and a lot of us have flaws that we wish would go away. But having a Photoshoot with Tasha will make you look at those flaws differently. Her photoshoot will make you love your curves, appreciate your body, and admire the great things about yourself. I'm glad I was able to get over my initial shyness because I thoroughly enjoyed my experience with Tasha'

But that's only my Home Base. I travel all over the Continent currently with plans for international travel dates as well!
Current Travel Dates
Orlando - Sept 29th-30th
Vegas & L.A. - Feb 2019
Boston & NYC - July 2019